Energize Your Personal and Professional Leadership Communication Skills in a Unique, Fun, Memorable Hands-On Opportunity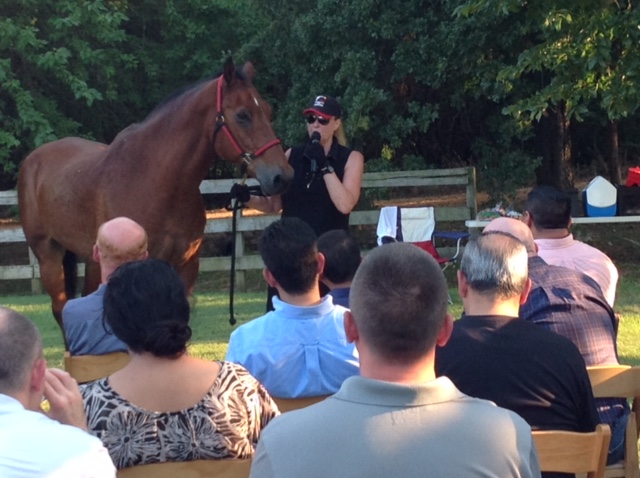 Take part in the HorsePower Momentum Event…and learn from the Masters in Communication, Emotional Intelligence, Positive Reinforcement, Authenticity, Integrity, Respect, Trust, Inspirational Leadership, Change, Reinvention, Teamwork and… Learn how to "Ride Every Stride" with Purpose, Power and Passion!
Find out how the application of powerful leadership techniques are uniquely platformed with equine communication that mirror the challenges individuals face in organizations every day.
This is a customized program for your organization that works with actual horses and your participants utilizing the unique synergy between people and horses. Using horses in these distinctive training programs offers new, challenging and exciting ways to promote and facilitate successful change within your organization. It's a diverse, unique way to have people think differently, learn creatively, and retain this changed approach long after they've left the arena! Your participants will take away techniques, ideas, and tools to immediately start facilitating once they get back to their work environments.

Imagine This……
From the moment you and the horse meet you will….
Learn to break down defensive barriers with a new understanding of yourself and others
Learn to improve human bonds utilizing the techniques to create equine bonds
Improve verbal and non-verbal communication skills
Strengthen personal listening skills
Improve your self- confidence and self-esteem
Attain immediate, honest and authentic feedback from the horse
Become empowered to grow your personal comfort zones
Learn to think differently!
This is an experience you will never forget!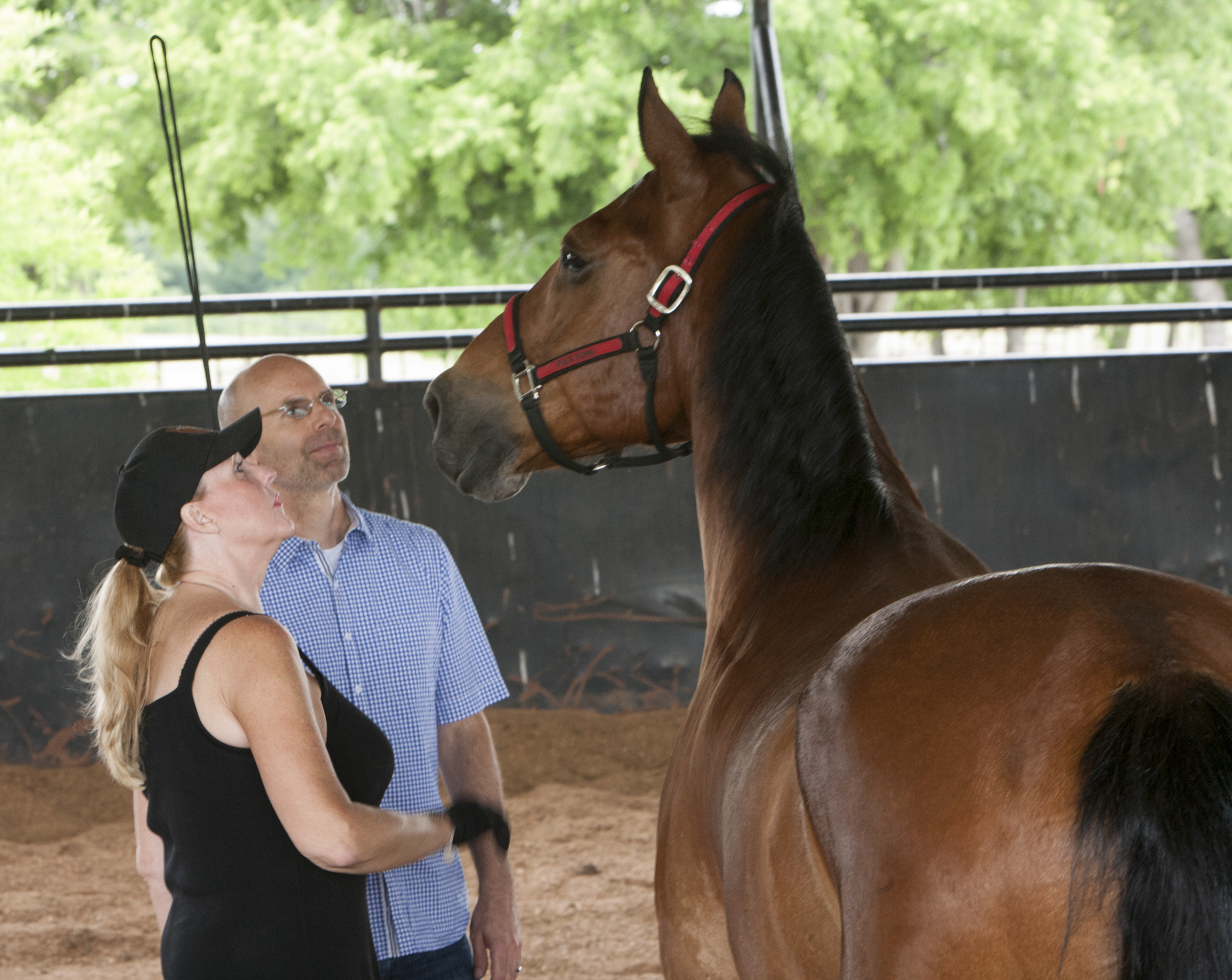 The Approach
The purpose of this program is to make a difference. To be a catalyst for growth and self-discovery!
To motivate and inspire with powerful concepts that will enable participants to learn, change and succeed!
Why is it Different?
This is not a typical motivational speaker "entertaining" you!
This is not a "heard it before" training event.
This is not a horse-whisperer side-show.
This is a very unique program that gives you the opportunity to revitalize your skills and abilities for success!
Why is it Successful?
The program is successful because it makes an unforgettable impact personally and professionally.
It's interesting and stimulating…and challenges audiences to take action, develop and achieve!
The powerful concepts stay with you long after the event. They are practical, effective and transformational!
The program has an energy and message that connects with audiences. The participants leave energized, inspired, excited and alive with possibilities!
Why Horses?
We can learn from horses and by identifying their characteristics we can better understand ourselves and others. Horses are truthful, authentic, and open. Horses don't lie. They don't have agendas or ulterior motives. They are honest creatures and react to what they see. They will mirror how others perceive you and your behavior!
With horses you receive real, honest feedback. Horses can teach us how to be successful, improve our communication skills and expand our abilities in social intelligence! How we interact with horses demonstrates how we interact with people!
After the HorsePower Momentum Event, these professional areas will be enhanced:
Management and Leadership…with… a Kick!
Organizational Motivation
Building Organizational Trust
Problem Solving
Creative Thinking
Team Building & Goal Setting
Team Member Roles and Responsibilities – "Who's in Your Herd?"
Identify Personal Goals and Overarching Team Goals that Engage Momentum
Team Member Mentality and Effectiveness – Utilizing the Push/Pull Concept
Working with Different Personalities and Generations
Communication Skills
The Communication Process that Works
The Value of Listening
Non-Verbal and Verbal Communication Skills
The "New Currency" of Influence – Getting rid of the "Neigh Sayers!"
Enhancing Cultures within "Your Arena"
Realizing the Values of Integrity, Respect, Authenticity and Trust
Creating the Organizational Belief System
Understanding the Herd Leader Role
Maintaining the Organization with "Purpose, Power and Passion"
Mastering and Embracing Change
Understanding the "Masters of Evolution and Reinvention"
Appreciating the Value of Balance and Rhythm
Techniques to Master the Fear of Change
Maintaining your own Energy Factors
Confidence Building
Embracing Challenges
Fostering New Ideas
Maintaining Your Purpose
Utilizing the "Carrot and Stick"
Utilize Emotional Intelligence to Achieve More
Learn to Recognize and Adapt to the Personal Traits of Others
Recognize Your Own Personality Traits
Learn to "Read Intention"
Gain Personal Growth and Success with a Refreshing, New Insight
Make the New "HorsePower" your New "HumanPower"!
Learn How to Fuel the New Human Energy Evolution
Understand the Way You Work
Create Meaning and Achievement in Your Career and Life
The True Meaning of HorsePower and Secrets to Maintaining Your Own Momentum
In this event, you personally utilize our on-hands program at an equestrian center and experience in person these valuable lessons from the world's most profound teacher – the horse.
Betti's customized program for your event will be tailored to your specific goals. The programs are researched and customized so the attendees will realize hidden performance potential, rise above the competition and exceed expectations!