Leadership Momentum
Get Unstuck, Drive Positive Change and Accelerate Growth with Employee Engagement!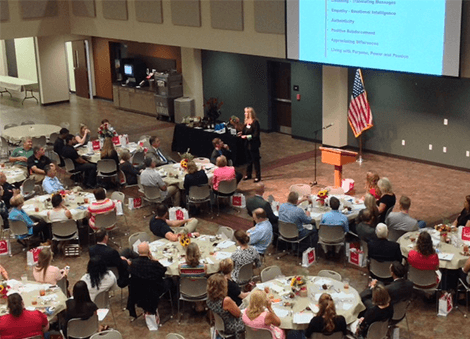 Betti's Promise:  You will possess a new mindset to increase performance, productivity and profits… and you'll do it with a new Momentum!
Highly motivated teams positively impact the bottom line.  They produce more. They work well together. They reach goals effortlessly.
What would you give to have a team like that?
Betti Coffey has shared her five steps to create a culture of engagement with legendary leaders and companies such as Southwest Airlines, Disney, The Container Store, and many more.
Her powerful keynote will help you realize leadership momentum. You'll discover how to:
Drive increased performance faster
Have a confident culture that delivers positive results
Differentiate your organization from "the other guys"
Create a productive, progressive and customer-focused environment
Inspire a robust "hustle" so your team will perform at extraordinary levels
When you are ready to drive results, accelerate growth, empower innovation and increase profitability with strong leadership… you need Leadership Momentum!
Testimonials
Betti's keynote is highly interactive and has made a big impact! Very progressive!
Mass Mutual
Absolutely the best speaker at our event – so much energy!
VHA
Betti took the time to really understand our culture and our challenges. Her keynote and seminars created a clear path for our leadership to build on.
Custom Ink