Influence and Inspire with Effective Communication
Building More Effective Relationships and Getting Better Results
"The single biggest problem in communication is the illusion it has taken place" – George Bernard Shaw
Good communication is the cornerstone in all relationships. This is a connection economy and building relationships that create connections, improve interactions and build effective relationships will get results!
Bottom line…the better communicator you are – the more successful you'll be!
Learn to keep the waters of communication "clean and flowing" and increase collaboration, boost teamwork and build remarkable relationships. Great communicators are influential and build trust. You can lead a horse to water…but you can't make them drink! The same is true in business communication.
Betti will give you the 15 Effective Communication Skills to Inspire; Make an Impact and Influences Others!  Learn to recognize and manage difficult personality styles. Dramatically improve your listening and communication skills. Establish interactions with others to build effective relationships.  Utilize the "HorsePower Communications Checklist" for some best practices and ideas.
One of the biggest challenges in organizations and between individuals is not what people are saying to each other, it's what they're not saying to each other! 
The challenges of today's mergers, cross-cultural workplaces and workforce generational differences become extinct with solid communication skills that bring people together.  Learn to resolve conflicts, better negotiate, build relationships and gain agreement with trust, credibility and loyalty.  It's all in what you say!
Communicate with impact.  Inspire your teams. Influence your clients.  Resolve conflicts and Communicate with HorsePower!
Take the challenge of the HorsePower Communication Wheel and realize your communication strengths and weaknesses
Receive the HorsePower Communications Checklist for best practices and ideas
Learn the most important communication strategy to boost teamwork, increase trust, build remarkable relationships and achieve your goals
Communicate with people who have different communication styles and backgrounds
Learn how to deliver difficult messages. Manage conflict and tough conversations
Learn how your words can inspire and motivate achievement in others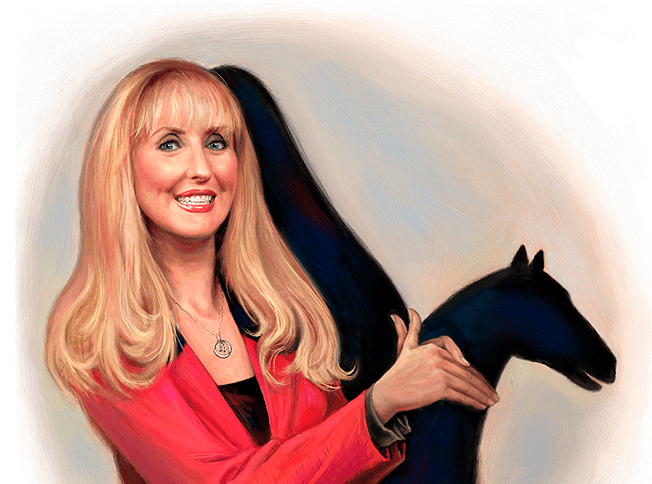 HorsePower Tip!
Your communication isn't strong enough if all it does is lead the horse to water… the horse has to understand and be inspired to drink the water!
Some people talk to animals. Not many listen though. That's the problem.   – A.A. Milne
Testimonials
"Great ideas and solutions to take our communications to the next level. Very valuable and we want her back soon!"
UTD
"Betti is so engaging and full of different ideas. This was very innovative. Really new and unique. Seriously impressive!"
Resource Development Co.
"Betti helped me adapt the communication behaviors that are important for me to go to the next level."
Tyler Group