Make Emotional Intelligence Work for You
Learn to Understand the Thoughts and Emotions of Others
"Anyone can become angry – that is easy. But to be angry with the right person, to the right degree, at the right time, for the right purpose and in the right way – this is not easy."   —Aristotle
Emotional intelligence is more than intuition and charisma! It's the ability to identify, recognize and manage our own emotions and feelings. It's also being able to recognize and influence the emotional state in others. Wow… that is powerful!
Have you asked yourself why some people get ahead and others don't?
Here's the answer…people with high emotional intelligence advance faster than those who lack emotional intelligence. In fact, inspirational leaders excel in emotional intelligence!
Your job is to get results and achieve goals. You've got to keep your team motivated. Communicate clearly. Stay on track and watch for your team being upset by someone else's emotional energy!  Under pressure, you can't let anxiety, mistrust, and stress impact the results. Enable teams to operate clearly and accomplish more establishing trust to get the job done!
Get HorsePower's 20 Signs of Strong Emotional Intelligence to connect with others and create amazing relationships and results!
Learn to accurately understand a person's thoughts and emotions, even before exchanging words, through understanding nonverbal signals such as body language and facial expressions.  Learn the techniques of how to really listen and you'll achieve higher levels of performance in yourself and others!
Unlike your IQ… your EQ can increase!
People with high emotional intelligence will perform better and achieve more!
Through Betti's program, you will…
Utilize Emotional Intelligence to foster deeper communication and connection
Learn how to truly engage and connect with your teams
Discover the power of truly listening… and improving every relationship in your life!
Learn how Emotional Intelligence can influence customer thinking and change the way we service and succeed with clients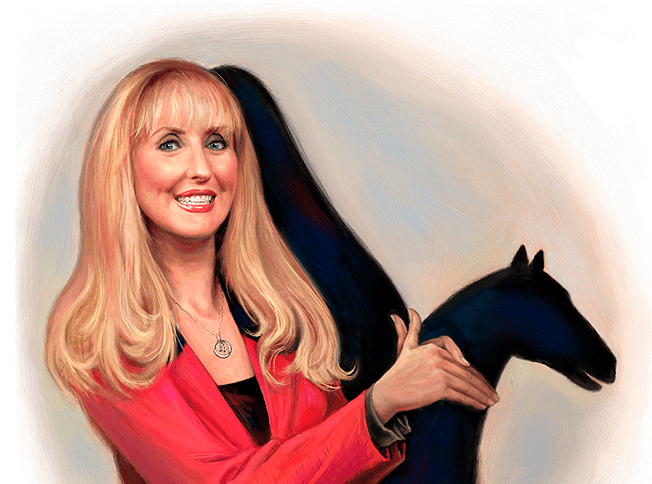 HorsePower Tip!
Horses are masters at reading intention! They live in the now and they validate congruence! They are extremely sensitive and their bodies can pick up changes in energetic vibration which is how they can read intention! A horse will react to the most powerful energy in its environment. To be an effective leader, you must have this energy …and possess this Momentum!
Testimonials
"Betti, you helped us understand our teams better which has given us an advantage as we form our new organization. Thank you!"
Covenant Group
"You made us feel extra-ordinary! Learned so much today. This is going to be very helpful!"
Park Place
"Flaming enthusiasm, backed up by horse sense and persistence, is the quality that most frequently makes for success."
Dale Carnegie